Shan Moore
Vintage Racers Takeover Daytona International Speedway for the Daytona Vintage Supercross
TimeMonday, March 15, 2021 | 3:00 PM
Vintage Racers Takeover Daytona International Speedway
for the Daytona Vintage Supercross
After two full days of Amateur racing on Sunday and Monday, the Vintage bikes took to the track on Tuesday for the Third Annual Daytona Vintage Supercross. Perhaps more about the motorcycles than the race, the DVSX is a spectacle of MX history. Four decades of racing and motorcycle antiquity are covered in the DVSX event and riders of all ages participate in the spectacle as a record 363 riders competing in 34 vintage and modern classes took to the course to vie for championships and trophies. Classes ranging from 125cc to Golden Masters (60+) were featured, with riders from all over the country competing. Classes were broken into six different groups starting with Vintage and going through 2008 with the Revolution 2 classes.
Unfortunately, due to COVID restrictions, the Vintage Off-Road Motorcycle Show normally hosted in the Fan Zone was not held, but it will hopefully return for 2022.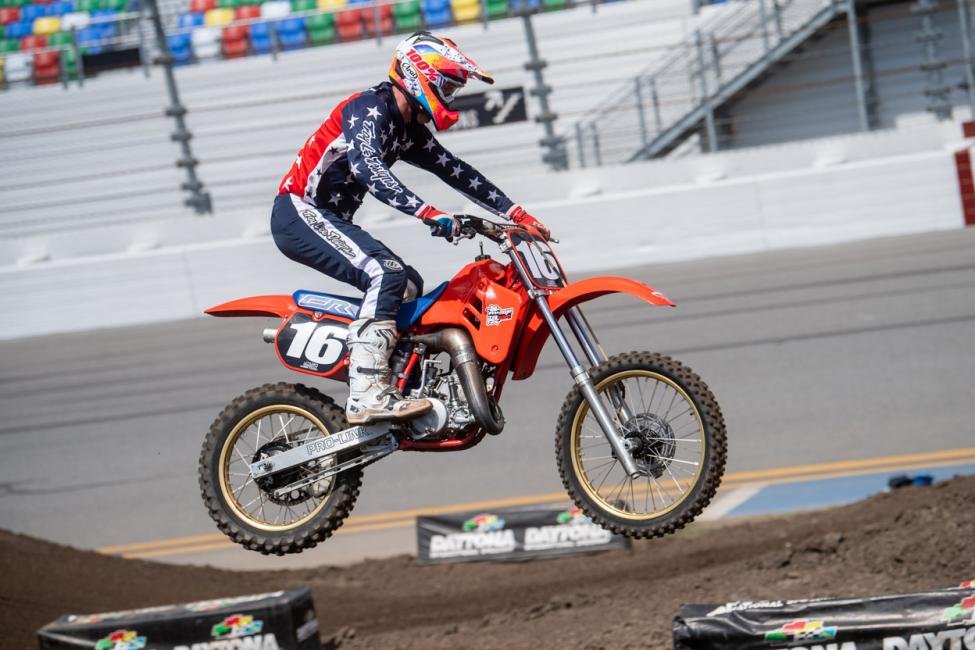 Six-time AMA Supercross/Motocross Champion and four-time Daytona SX winner Jeff Stanton led the Evolution 2 Masters 50+ class, ahead of multi-time national champ Doug Henry, where the spirit of Vintage Days was exemplified when Stanton slowed just before the checkered flag so that he and Henry could cross the finish line side-by-side. It was an amazing jester, which spoke to the very spirit of the event.
In all, Stanton, serving once again as the Grand Marshal for the Daytona Vintage Supercross, competed in three events, winning two – Evolution 2 Masters 50 and Evolution 3 Masters 50. Stanton was sixth in the Revolution 2 Open class.
At vintage races, bench-racing is often as much a part of the action as racing and DVSX is no different. According to 64-year-old Scott Wallenberg, former pro racer and many-time RSCX competitor, the event is a trip back in time.
"It takes me back to when these bikes were what we rode in the pro classes," said Wallenberg. "It's such a great fellowship to be with like-minded people."
Wallenberg rode a 1972 Monarch to fifth in the 125 Vintage class.
In addition to Stanton, other riders excelling at Daytona included Alabama's Johnny Borders, who won two class, topping the Revolution 2 Golden Masters 60+ class on a Honda and the Evolution 2 Golden Masters 60+ class on a Yamaha.
Florida's James Nagy Jr. also came away with two championships, finishing first in the Revolution 1 Masters 50 and the Modern Masters 50 classes.
North Carolina's Robert Berry won two classes with victories in the Vintage Open class and in the Evolution 1 Open division on his Maico.
Ohio's Billy Harbert Jr. rode a Suzuki to wins in the Evolution 2 Open class and in the Evolution 1 125 class.
The Warrior class, for military and first responders, was once again part of DVSX and Florida's James Gaines went 1-1 on a Yamaha to take the win ahead of Mark Oldroyd's 2-2 and Travis King's 3-3.
Alex Wagers claimed wins in the Revolution 2 Open, Open and 250 classes.
Other winners included Ted Orr (Revolution 2 Masters 50); Grayson Smith (Revolution 2 125); David Blauman (Revolution 1 Golden Masters 60); Tim Castrone (Revolution 1 Senior 40); Tim Smith (Revolution 3 Golden Masters 60); Rich Isza (Revolution 3 Masters 50+ C); Brent Hahn (Revolution 3 Senior 40); and Dayton Shirah (Revolution 3 Open);
Like last year, this year's event also included an AMA ATV Pro division, which was won again by perennial ATV champion Chad Wienen.
About Ricky Carmichael Daytona Supercross (RCSX):
The Ricky Carmichael Daytona Supercross is the world's premier amateur supercross event hosted annually since 2010 at the World Center of Racing - Daytona International Speedway in Daytona Beach, Florida. The class structure includes 35 classes from youth riders on 51cc bikes all the way to Golden Masters (60+). The program follows a supercross format, using heat races and last chance qualifiers to seed the field of riders into the main event in each class. In collaboration with 15-time champion Ricky Carmichael, this event is produced by MX Sports, Inc., a West Virginia-based race production company and sanctioned by AMA. For more information, please visit www.mxsports.com.
About Daytona Vintage Supercross (DVSX) and AMA Pro ATV Supercross:
The Daytona Vintage Supercross was added to the event roster in 2019 and has doubled in size in one year. The program features 34 classes from Vintage (through 1974) to Evolution (through 1979, 1984, and 1986) and Revolution (through 1998 and 2008), sprinkled with some modern classes. The highlight of the race action is the AMA ATV Pro Supercross, featuring the world's fastest Pro ATV racers. Held the Tuesday after RCSX, the program attracts vintage motorcycle enthusiasts and older riders. For more information, please visit www.mxsports.com.
About the American Motorcyclist Association:
Founded in 1924, the AMA is a not-for-profit member-based association whose mission is to promote the motorcycle lifestyle and protect the future of motorcycling. As the world's largest motorcycling rights and event sanctioning organization, the AMA advocates for riders' interests at all levels of government and sanctions thousands of competition and recreational events every year. The AMA also provides money-saving discounts on products and services for its members. Through the AMA Motorcycle Hall of Fame in Pickerington, Ohio, the AMA honors the heroes and heritage of motorcycling. For more information, visit www.americanmotorcyclist.com. Not a member? Join the AMA today: www.americanmotorcyclist.com/membership/join.
Media Contact:
Shan Moore
[email protected]