Kayla Bolton
BOXO USA Joins The 2021 Ricky Carmichael Daytona Amateur Supercross Feature Sponsor Lineup
TimeFriday, February 26, 2021 | 11:30 AM
FOR IMMEDIATE RELEASE
BOXO USA Joins The 2021 Ricky Carmichael Daytona
Amateur Supercross Feature Sponsor Lineup
2021 Champions to Earn BOXO USA RCSX Designed Toolbox
MORGANTOWN, W.Va. (February 26, 2021) – BOXO USA joins the prestigious roster of featured sponsors for the 2021 Ricky Carmichael Daytona Amateur Supercross (RCSX), which will take place inside Daytona International Speedway starting on Sunday, March 7 and running through Monday, March 8.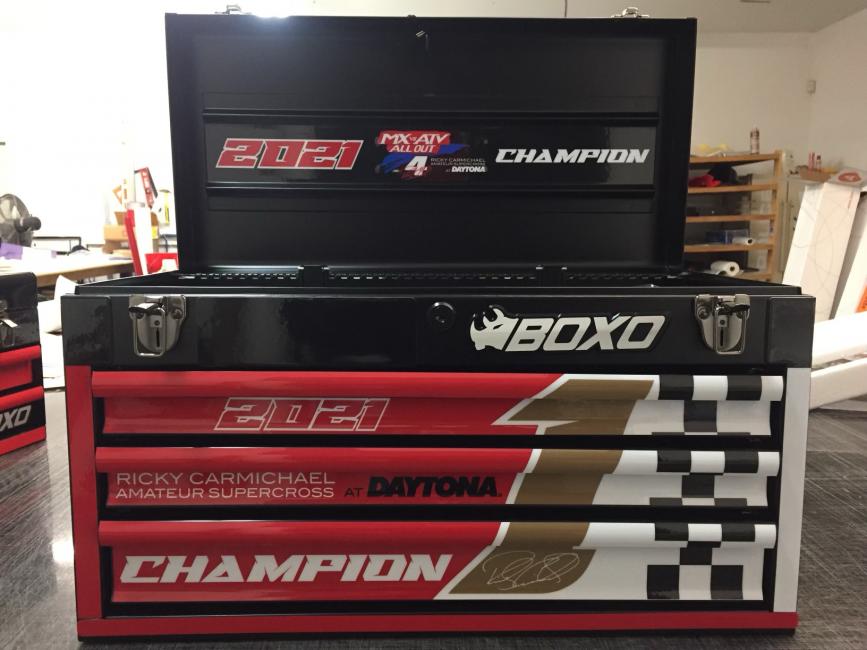 "Motorcycle and ATV manufactures, and aftermarket producers of the vast array of products used in our sport, have long been supporters of our sport's participants, through contingency sponsorship award programs," said Tim Cotter, MX Sports Event Director. "We're pleased to welcome the participation of BOXO into this elite group of contingency sponsors with their generous support of our community with their announcement to provide each of our RCSX and ATVSX champions with a remarkable, and uniquely designed commemorative toolbox and tool kit."
For the past 10 years, BOXO USA has been devoted to creating a full line of hand tools, while combining usefulness and organization. BOXO has minimized the supply chain, which allows them to make professional quality tools at remarkably reasonable prices.
Our premier classes (Open A, 250 Futures, 250 B's and Supermini classes) will receive the 3-drawer BOXO toolbox. All other RCSX classes will receive the 2-drawer BOXO toolbox. Both toolboxes come supplied with a variety of BOXO tools. The toolboxes are specially designed for the 2021 RCSX event and valued at over $800 and $500 dollar. Riders that earn more than one championship will only receive one toolbox.
Cotter continued, "This BOXO award is a product that will provide a lifetime of use and utility while celebrating the accomplishment of an RCSX Championship. In our sport's jargon, BOXO has clearly earned a place on the podium of contingency sponsors with their presentation of this fantastic award to our RCSX class winners."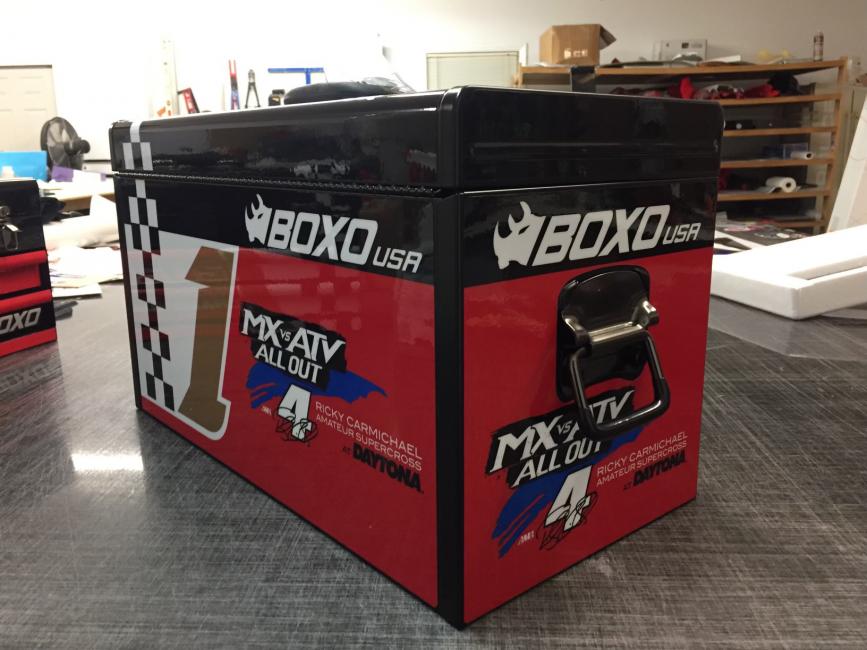 To check out more from BOXO USA visit their website, www.boxousa.com.
Pre-Registration for RCSX, DVSX and ATVSX are open until March 3, 2021. Click HERE and follow the directions to pre-register for the event and purchase your admission and camping tickets.
The 12th annual MX vs ATV All Out Ricky Carmichael Daytona Supercross Championship will take place Sunday, March 7 through Tuesday, March 9 at the Daytona International Speedway in Daytona Beach, Florida.
For more information on the Ricky Carmichael Daytona Supercross, visit the series official website at www.racedaytona.com or call (304) 284-0101. Join the conversation on the event's social media channels, along with receiving the most up-to-date news and exclusive content.
About Ricky Carmichael Daytona Supercross (RCSX):
The Ricky Carmichael Daytona Supercross is the world's premier amateur supercross event hosted annually since 2010 at the World Center of Racing - Daytona International Speedway in Daytona Beach, Florida. The class structure includes 34 classes from youth riders on 51cc bikes all the way to Golden Masters (60+). The program follows a supercross format, using heat races and last chance qualifiers to seed the field of riders into the main event in each class. In collaboration with 15-time champion Ricky Carmichael, this event is produced by MX Sports, Inc., a West Virginia-based race production company and sanctioned by AMA. For more information, please visit www.mxsports.com.
About Daytona Vintage Supercross (DVSX) and AMA Pro ATV Supercross:
The Daytona Vintage Supercross was added to the event roster in 2019 and has doubled in size in one year. The program features 34 classes from Vintage (through 1974) to Evolution (through 1979, 1984, and 1986) and Revolution (through 1998 and 2008), sprinkled with some modern classes. The highlight of the race action is the AMA ATV Pro Supercross, featuring the world's fastest Pro ATV racers. Held the Tuesday after RCSX, the program attracts vintage motorcycle enthusiasts and older riders. For more information, please visit www.mxsports.com.
About the American Motorcyclist Association:
Founded in 1924, the AMA is a not-for-profit member-based association whose mission is to promote the motorcycle lifestyle and protect the future of motorcycling. As the world's largest motorcycling rights and event sanctioning organization, the AMA advocates for riders' interests at all levels of government and sanctions thousands of competition and recreational events every year. The AMA also provides money-saving discounts on products and services for its members. Through the AMA Motorcycle Hall of Fame in Pickerington, Ohio, the AMA honors the heroes and heritage of motorcycling. For more information, visit www.americanmotorcyclist.com. Not a member? Join the AMA today: www.americanmotorcyclist.com/membership/join.
###
Media Contact:
Kayla Bolton
(304) 284-0101
[email protected]