Kayla Bolton
MX vs ATV Video Game Franchise Returns to RCSX as Title Sponsor For 2021
TimeFriday, February 12, 2021 | 11:30 AM
MX vs ATV Video Game Franchise Returns to RCSX as Title Sponsor For 2021
MORGANTOWN, W.Va. (February 12, 2021) – MX Sports Inc., producer of the Ricky Carmichael Daytona Amateur Supercross (RCSX), is excited to announce that MX vs ATV will be returning for their second consecutive year as the event's title sponsor. RCSX will take place March 7 and 8 with Daytona Vintage Supercross presented by Vintco being held Tuesday, March 9 alongside AMA Pro ATV racing.
Currently available across PC, PlayStation® 4 computer entertainment system, Xbox One Consoles, and Nintendo® Switch MX vs ATV All Out is the complete off-road racing and lifestyle experience. Players can create their own private compound, ride across massive outdoor environments, and compete in the best series events! Follow @mxvsatv for more details
The MX vs ATV franchise was created by Rainbow Studios and dates back to 2005 when MX vs. ATV Unleashed, featuring both dirt bikes and ATVs in one game, was released. Then in 2018 the franchise re-built themselves from the ground up, bringing racing and the off-road lifestyle to life in MX vs ATV All Out.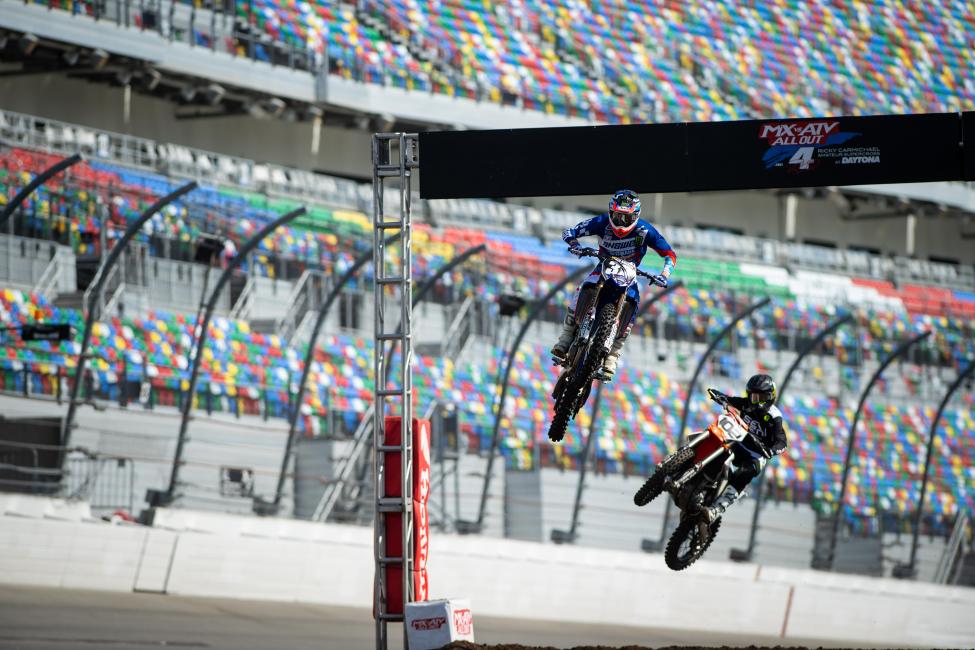 "Supporting the motocross community beyond our games is important to the team at Rainbow. The 2021 RCSX is an amazing opportunity for us to give back to the community and support amateur Motocross riders of all ages, walks of life and skill levels." - Lenore Gilbert CEO Rainbow Studios
Pre-Registration for RCSX, DVSX and ATVSX are open until March 3, 2021. Click HERE and follow the directions to pre-register for the event and purchase your admission and camping tickets.
The 12th annual MX vs ATV All Out Ricky Carmichael Daytona Supercross Championship will take place Sunday, March 7 through Tuesday, March 9 at the Daytona International Speedway in Daytona Beach, Florida.
For more information on the Ricky Carmichael Daytona Supercross, visit the series official website at www.racedaytona.com or call (304) 284-0101. Join the conversation on the event's social media channels, along with receiving the most up-to-date news and exclusive content.
About Ricky Carmichael Daytona Supercross (RCSX):
The Ricky Carmichael Daytona Supercross is the world's premier amateur supercross event hosted annually since 2010 at the World Center of Racing - Daytona International Speedway in Daytona Beach, Florida. The class structure includes 34 classes from youth riders on 51cc bikes all the way to Golden Masters (60+). The program follows a supercross format, using heat races and last chance qualifiers to seed the field of riders into the main event in each class. In collaboration with 15-time champion Ricky Carmichael, this event is produced by MX Sports, Inc., a West Virginia-based race production company and sanctioned by AMA. For more information, please visit www.mxsports.com.
About Daytona Vintage Supercross (DVSX) and AMA Pro ATV Supercross:
The Daytona Vintage Supercross was added to the event roster in 2019 and has doubled in size in one year. The program features 34 classes from Vintage (through 1974) to Evolution (through 1979, 1984, and 1986) and Revolution (through 1998 and 2008), sprinkled with some modern classes. The highlight of the race action is the AMA ATV Pro Supercross, featuring the world's fastest Pro ATV racers. Held the Tuesday after RCSX, the program attracts vintage motorcycle enthusiasts and older riders. For more information, please visit www.mxsports.com.
About the American Motorcyclist Association:
Founded in 1924, the AMA is a not-for-profit member-based association whose mission is to promote the motorcycle lifestyle and protect the future of motorcycling. As the world's largest motorcycling rights and event sanctioning organization, the AMA advocates for riders' interests at all levels of government and sanctions thousands of competition and recreational events every year. The AMA also provides money-saving discounts on products and services for its members. Through the AMA Motorcycle Hall of Fame in Pickerington, Ohio, the AMA honors the heroes and heritage of motorcycling. For more information, visit www.americanmotorcyclist.com. Not a member? Join the AMA today: www.americanmotorcyclist.com/membership/join.
###
Media Contact:
Kayla Bolton
(304) 284-0101
[email protected]