Shan Moore
Record Entries for Daytona Vintage Supercross 
TimeThursday, March 12, 2020 | 5:25 PM
Record Entries for Daytona Vintage Supercross
DAYTONA BEACH, Fla. (March 12, 2020) – Held in conjunction with the 11th annual MX vs ATV All Out Ricky Carmichael Amateur Supercross (RCSX), the second annual Daytona Vintage Supercross (DVSX) took place on Tuesday, March 10th at the historic Daytona International Speedway in Daytona Beach, Florida.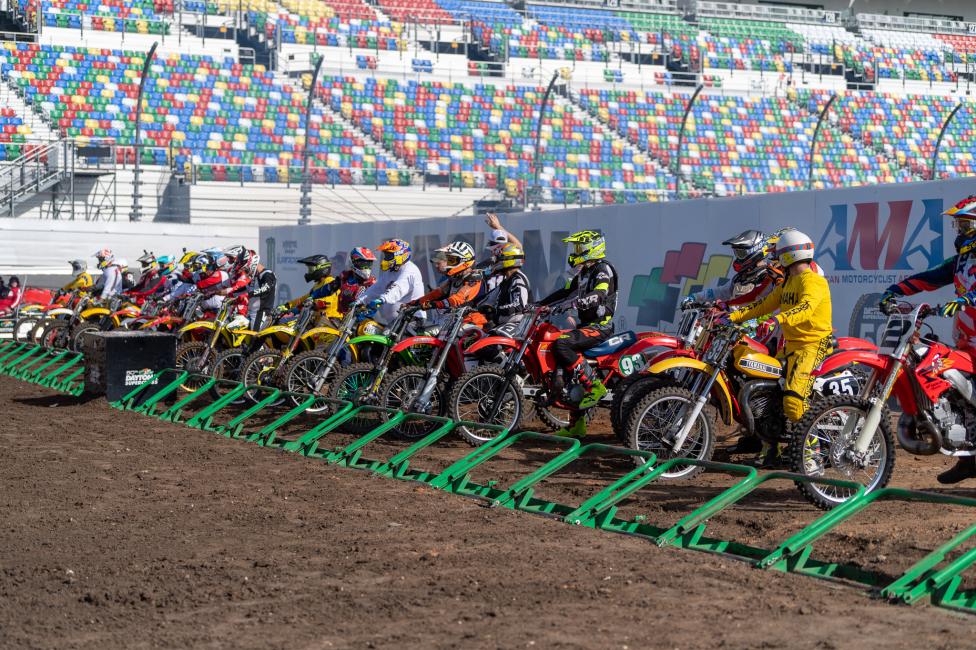 Thirty-nine classes ranging from 125cc to Golden Masters (60+) were featured, with riders from all over the country competing. Classes were broken into six different groups starting with Vintage and going through 2008 with the Revolution 2 classes. This year, 225 entries - a 25% increase from last year - graced the starting grids.
This year's event also included a "Warrior" class, for military and first responders. Devin Schafer of Illinois won the event with a 1-1 moto tally.
Once again, Four-time Daytona SX winner Jeff Stanton served as Grand Marshal for the Daytona Vintage Supercross, as he also participated in the festivities by racing four of the classes. Stanton took home the wins in the EVO 2 125class on a Yamaha, REV 1 125 class on a Honda and in the Evolution 2 Open class on a Maico.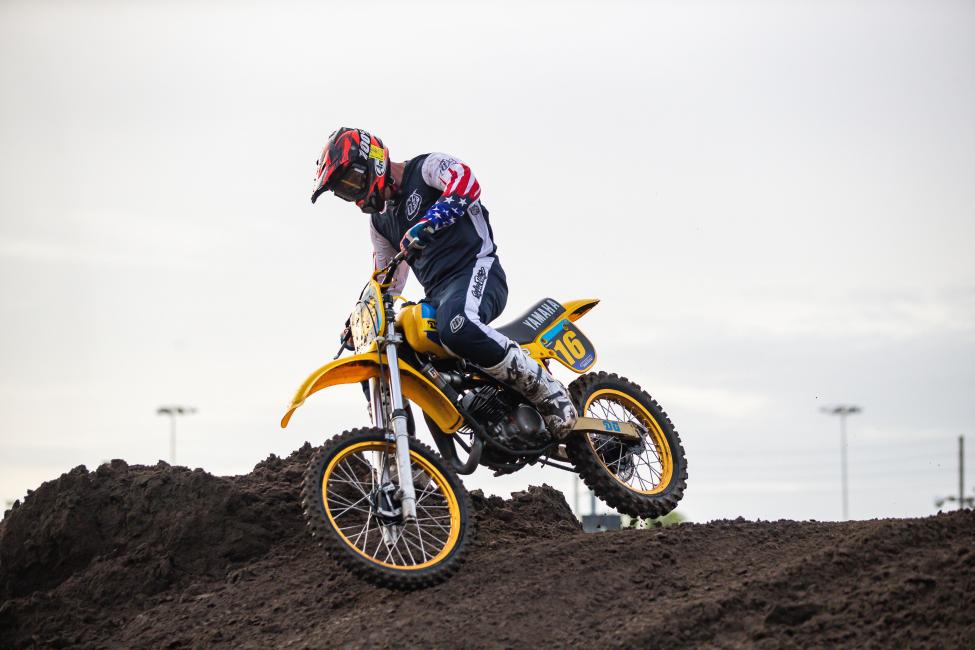 The vintage action kicked off Saturday evening with the Vintage Off-Road Motorcycle Show hosted in the Fan Zone alongside the Daytona Pro Supercross as the MX Sports staff awarded prizes for Best in Show.
In addition to the thrilling racing, the stories that went along with some of the vintage bikes added to the intrigue of the event. For instance, Concord, North Carolina's Robert Berry won the EVO 1 Open class on a 1971 Maico MC 400 that he and his father found and restored. His father, David, was a Maico-sponsored rider in the early 70's and raced a similar Maico, which made finding and restoring the bike much more meaningful.
Another rider, Derek LaFond, competed on the 1994 KX250 that his father bought new and raced in '94.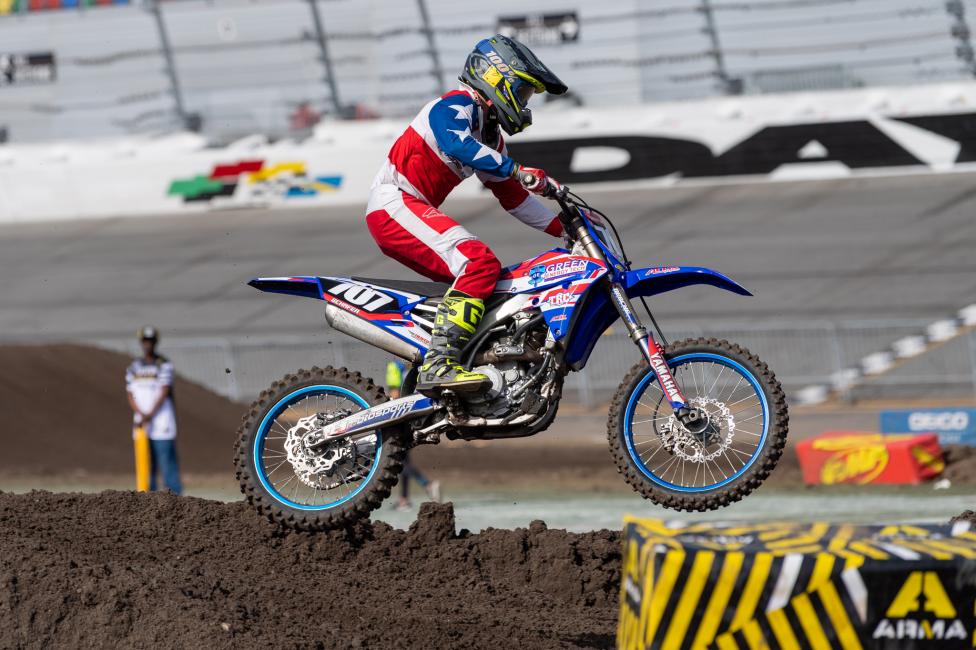 Racing got underway early Tuesday morning with Alabama's Tim Castrone grabbing the holeshot in the REV2 40+ class, ahead of fellow Suzuki rider Ed Higgins of Coconut Creek, Florida. Castrone held the lead for the duration of the race to take the win, with Higgins second and Yamaha-mounted Troy Collier of West Palm Beach, Florida in third.
Higgins returned later in the day to go 1-1 to win the REV2 Masters 50+ division ahead of Darryl Robbins (Yam) and Rich Isza (Hon).
Former pro motocross Todd DeHoop made an appearance and came away with wins in the EVO3 Masters 50+, EVO3 Open, and REV1 Masters 50 divisions. Meanwhile, Alabama's Johnny Borders won two class, topping the EVO1 Golden Masters 60+ class on a Yamaha and the REV2 Golden Masters 60+ class on a Honda.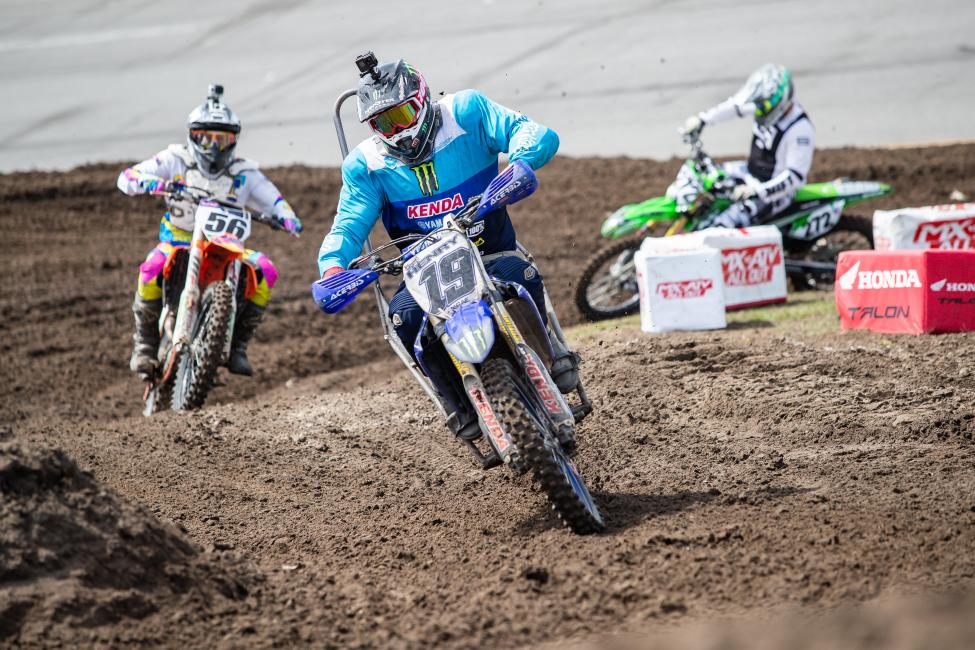 Other "two-class" winners included Todd Streitt (EVO3 SR 40+ and EVO1 Masters 50+); Garrett Edmisten (REV2 VET 30+ and REV2 Open); and Andrew Boccarossa (125cc and REV2 125).
Other winners include Danny Wirt (Vintage Golden Masters 60+); Gary Davis (Vintage Masters 50+ C class; Randy Richardson (Vintage Masters 50+); Clay Burns Vintage 250; Casey Cochran Vintage 125; and Paul Dziwanowski (REV1 Golden Masters 60+).
This year's event also included an AMA ATV Pro division, which was won by perennial ATV champion Chad Wienen.
RESULTS: https://resultsmx.com/daytona/class.asp?c=all&e=1016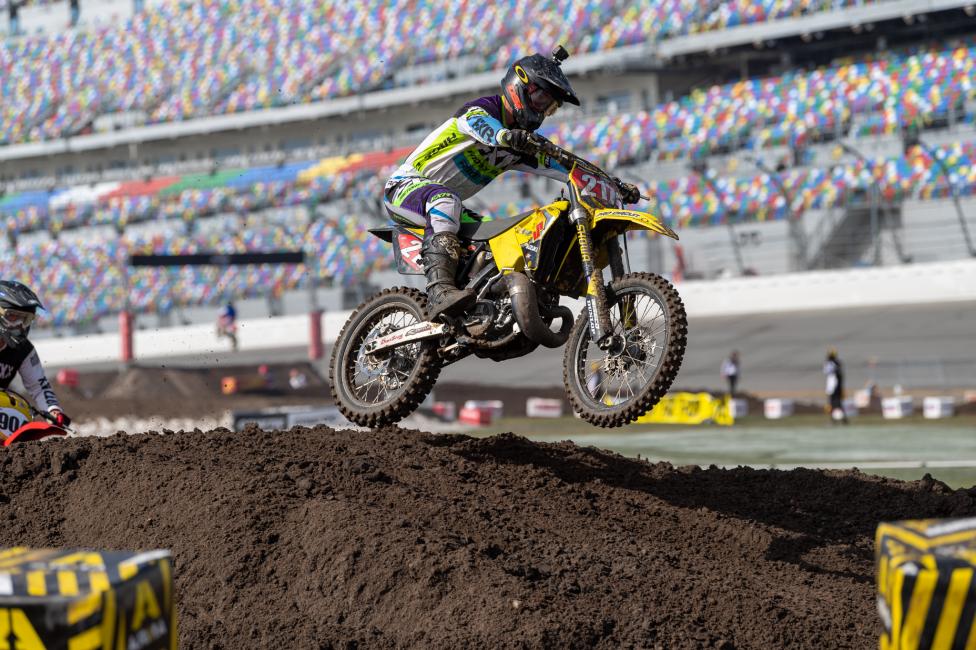 For more information on the Ricky Carmichael Daytona Supercross, visit the series official website at www.racedaytona.com or call (304) 284-0101. Join the conversation on the event's social media channels, along with receiving the most up-to-date news and exclusive content.
About Ricky Carmichael Daytona Supercross:
The Ricky Carmichael Daytona Supercross event is the world's largest three-day amateur supercross event. Hosted annually since 2010 at Daytona International Speedway in Daytona Beach, Florida, the class structure includes 34 classes from youth riders on 50cc bikes all the way to Golden Masters (60+). The race follows a supercross format, using heat races and last chance qualifiers to seed the field of riders into the main event in each class. In collaboration with 15-time champion Ricky Carmichael this event is produced by MX Sports, Inc., a West Virginia-based race production company and sanctioned by AMA. For more information, please visit www.mxsports.com.
About the American Motorcyclist Association:
Founded in 1924, the AMA is a not-for-profit member-based association whose mission is to promote the motorcycle lifestyle and protect the future of motorcycling. As the world's largest motorcycling rights and event sanctioning organization, the AMA advocates for riders' interests at all levels of government and sanctions thousands of competition and recreational events every year. The AMA also provides money-saving discounts on products and services for its members. Through the AMA Motorcycle Hall of Fame in Pickerington, Ohio, the AMA honors the heroes and heritage of motorcycling. For more information, visit www.americanmotorcyclist.com. Not a member? Join the AMA today: www.americanmotorcyclist.com/membership/join.