Kayla Bolton
Ricky Carmichael Daytona Supercross Announces $118,215 Available in OEM Contingency
TimeThursday, March 5, 2020 | 4:35 PM
FOR IMMEDIATE RELEASE
Kayla Bolton
(304) 284-0084
[email protected]
Ricky Carmichael Daytona Supercross Announces $118,215
Available in OEM Contingency
MORGANTOWN, W.Va. (March 5, 2020) – MX Sports, producer of the Ricky Carmichael Daytona Supercross (RCSX) is excited to announce $118,215 in 2020 OEM Contingency from KTM, Yamaha, Suzuki, Honda, Kawasaki, and Cobra.
KTM North America will be offering $40,550 in KTM Contingency for the Ricky Carmichael Daytona Amateur Supercross event that celebrates its 11th Annual running this season. KTM racers can earn dealer credits for their finishes at select series across the United States. Sign up and learn more HERE for your KTM Cash today, and don't forget to setup your personalized alerts when awards are earned.
Yamaha Motor Corporation, U.S.A announced its 2020 bLU cRU amateur racing contingency program. Yamaha is set to offer $8,250 for the Ricky Carmichael Daytona Supercross event, check out which classes are set to earn $150, $100, $75 and $50 by clicking HERE. To view a breakdown of the 2020 off-road contingency program, click HERE.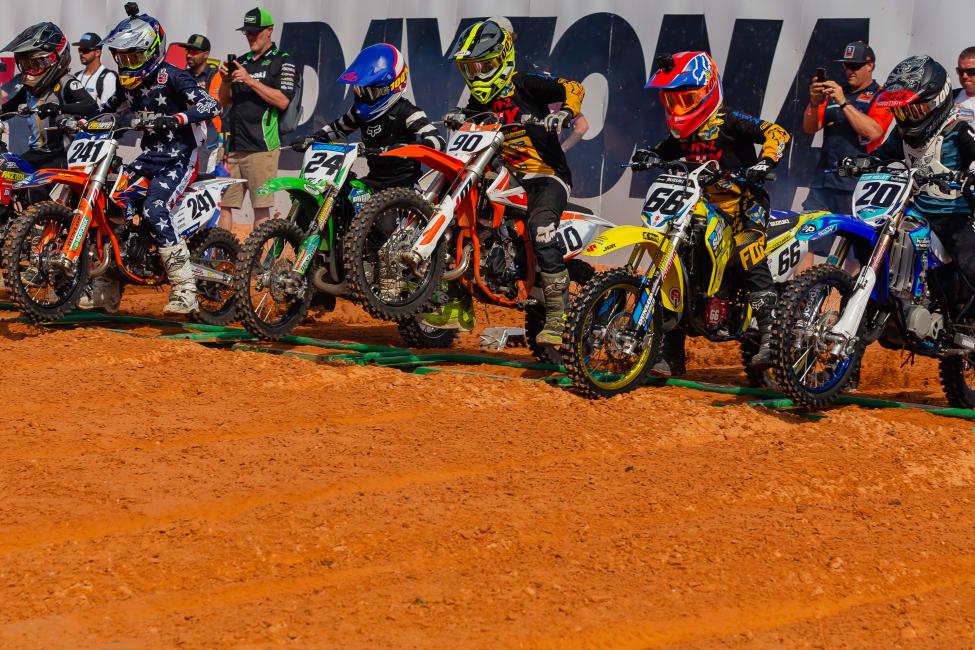 Suzuki Motor of America, Inc. Racing Contingency Program returns strong for the 2020 season. For the RCSX event, Suzuki is offering $28,250 in contingency for specific qualifying classes. The program includes track-side support and double contingency payout at selected events. To learn more about Suzuki's 2020 contingency program and all its benefits, please visit racesuzuki.com.
American Honda is set to offer $21,050 contingency for the 2020 RCSX event with their Red Rider Rewards program. Competitors must enroll and verify their registered, qualifying vehicles, and once the results have been approved all the winnings will be issued to your personal XTRM AnyPay digital wallet. Click HERE to view qualifying classes and payout.
Kawasaki contingency continues their Kawasaki Racer Rewards Mastercard's, making it easier to win with Kawasaki. Their rewards program can be used wherever MasterCard is accepted, while being able to track and view your account online. Racer Rewards' funds are credited whenever results are approved For the 2020 RCSX event Kawasaki is offering $19,200 in their rewards program, to view program details and a full breakdown of amateur racing contingency click HERE.
Cobra Moto continues their support with their 2020 "Snake Pit" Contingency program, and will be offering $915 to 65cc and 50cc racers. Cobra competitors need to create an account to claim their contingency, contingency can be used towards parts, clothing, accessories, and tools. Visit CobraMoto.com to learn more.
To view a full list of all of the available contingency for the 2020 Ricky Carmichael Daytona Supercross event, click HERE.
For more information on the Ricky Carmichael Daytona Supercross, visit the series official website at www.racedaytona.com or call (304) 284-0101. Join the conversation on the event's social media channels, along with receiving the most up-to-date news and exclusive content.
About Ricky Carmichael Daytona Supercross:
The Ricky Carmichael Daytona Supercross event is the world's largest three-day amateur supercross event. Hosted annually since 2010 at Daytona International Speedway in Daytona Beach, Florida, the class structure includes 34 classes from youth riders on 50cc bikes all the way to Golden Masters (60+). The race follows a supercross format, using heat races and last chance qualifiers to seed the field of riders into the main event in each class. In collaboration with 15-time champion Ricky Carmichael this event is produced by MX Sports, Inc., a West Virginia-based race production company and sanctioned by AMA. For more information, please visit www.mxsports.com.
About the American Motorcyclist Association:
Founded in 1924, the AMA is a not-for-profit member-based association whose mission is to promote the motorcycle lifestyle and protect the future of motorcycling. As the world's largest motorcycling rights and event sanctioning organization, the AMA advocates for riders' interests at all levels of government and sanctions thousands of competition and recreational events every year. The AMA also provides money-saving discounts on products and services for its members. Through the AMA Motorcycle Hall of Fame in Pickerington, Ohio, the AMA honors the heroes and heritage of motorcycling. For more information, visit www.americanmotorcyclist.com. Not a member? Join the AMA today: www.americanmotorcyclist.com/membership/join.