INDEX
Gate Admission
Class Registration
Camping & Garage Rental
Racer X Subscription
Transponders
Gate Admission
ADVANCE (ONLINE)
AT EVENT
Admission
Adult (12+)
Child (6-11)
Adult (12+)
Child (6-11)
Fri - Tues*
$120
$100
$100
$80
Sat - Tues*
$110
$90
$90
$70
Sun - Tues
$80
$60
$80
$60
Mon & Tues
$60
$40
$60
$40
Tues
$30
$20
$30
$20
*Friday and Saturday Advance Admission purchased by February 28th includes a discounted Saturday Pro Supercross ticket with special seating in the RCSX Amateur Bleachers. After February 28th Friday and Saturday Advance Admission will not include a Saturday Pro Supercross ticket. Guests wishing to attend the Saturday Pro Supercross after February 28th must purchase a ticket directly from Daytona International Speedway (DIS). View Saturday only ticketing options HERE. Tickets purchased directly from DIS will not include access to the RCSX Amateur Bleachers.
Admission rates are for guests ages 6 and older. All riders must purchase a Gate Admission ticket.
With the exception of Tuesday, there are no single-day passes available through MX Sports.
Guests wanting to attend Saturday's Pro Supercross only must purchase tickets directly from DIS at the Fan Zone Box Office.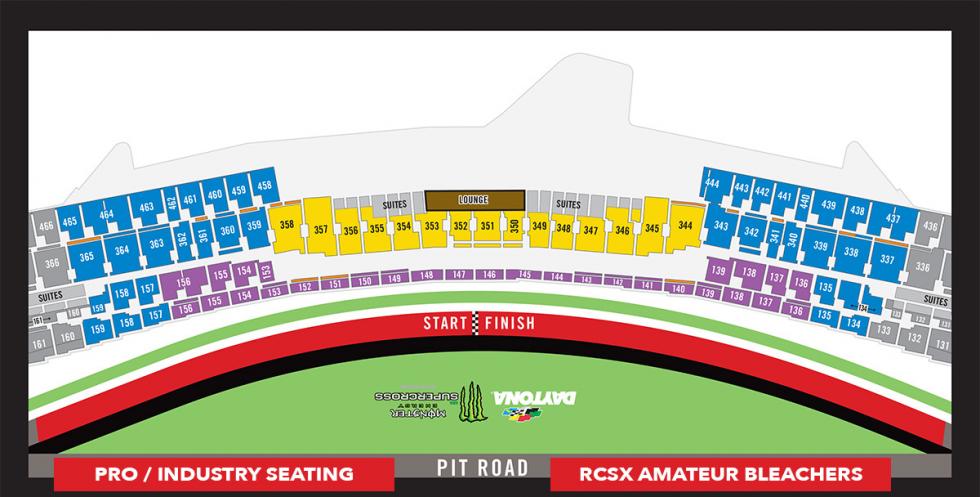 Class Registration
Pre-Entry Rate:
Post Entry Rate:
Riders May enter a maximum of 3 classes.
For your convenience, the Race Order has been pre-determined. Please consult with the Race Order prior to registering for classes to avoid conflicts, as the Race Order will not change.
All riders must purchase a Gate Admission ticket.
AMA Membership: All riders are required to have an AMA membership valid through the date of the event. It is required in order to register.
Medical Insurance: All riders are required to have medical insurance through the date of the event in order to compete.
Check-In: At the event, all riders must check-in at Rider Registration at the Boardwalk Club Building.
Hours of operation:
Friday: 2 pm - 7 pm
Saturday: 9 am - 6 pm
Sunday: 6:30 am - 8 am
Note: With the exception of WMX, this is a non-purse paying event.
Camping & Garage Rental
| | | |
| --- | --- | --- |
| | Pre-Entry | Post-Entry |
| Camping: Hookup | $220 | $300 |
| Camping: Non-Hookup | $160 | $200 |
| Garage | $125 | $150 |
| Extra Car Pass | $50 | $50 |
| Pit Vehicle Pass | $30 | $40 |
Hookup Campsites:
Size: 20' x 55'
Location: Lake Lloyd
Amenities: water, electric and cable TV – no sewage
Non-Hookup Campsites located near NASCAR Garage Area.
NASCAR Garages: These are the actual garages used by NASCAR!!
Size: 15'x37'
Location: Yellow Garage
Amenities: NA
Extra Car Pass: All camping permits include one detachable "Tow Pass" for an extra non-camping vehicle. If you have more than one non-camping vehicle, you must purchase an Extra Car Pass for an additional fee. All non-camping vehicles remaining on-sight overnight must have either a Tow Pass or an Extra Car Pass.
Race Day Parking/Pitting: A Day Lot for non-camping Racers and Guests will be located behind the NASCAR Garage. There is no fee to park in this lot. No overnight parking in the Day Lot. The Day Lot must be cleared 2 hours after racing daily.
Pit Vehicle Permits: A Pit Vehicle is a golf cart, scooter, electric motorcycle, UTV or small pit bike only (No ATV's or hoverboards). Pit Vehicles may be operated by Permit only. Unauthorized Pit Vehicles will be subject to impound. Only adults may operate a Pit Vehicle (18 years +).
Racer X Subscription
When you register online, you can sign up to get 12 print issues of Racer X Illustrated for only $19.98! (U.S. only)
Transponders
This event will be scored with the MYLAPS MX Transponder. Each racer is required to have a transponder. Transponders may be purchased prior to the event at www.mxtransponder.com. Transponders can be rented at the event during the registration check-in process.
Rates:
$25 - Rent Fee plus $100 refundable deposit