Kawasaki Team Green™ Captures 10 Championships at the Ricky Carmichael Amateur Supercross
TimeFriday, March 15, 2019 | 9:15 AM
Kawasaki Team Green™ Captures 10 Championships at the Ricky Carmichael Amateur Supercross
Foothill Ranch, Calif. (March 14, 2019) – Monster Energy® Kawasaki Team Green™ traveled to the bright sands of Daytona Beach for the 10th annual Ricky Carmichael Amateur Supercross at Daytona International Speedway. Team Green took home a total of 10 supercross championships and 21 total podiums aboard Kawasaki KX™ motorcycles over the course of the event.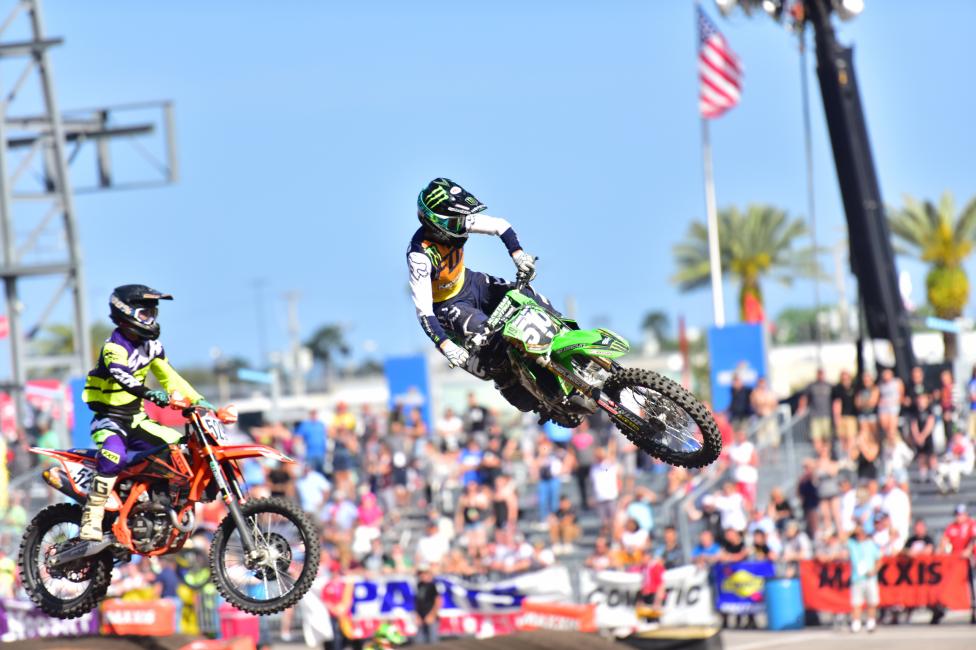 One of the event's standout performances came from Monster Energy Kawasaki Team Green's veteran Seth Hammaker who won titles in the 250 A and Open Pro divisions in dominating fashion. The rising star, Hammaker won every race he started including a staggering 29-second margin of victory in the 250 A main event.
"The track was pretty demanding, so you had to ride smart, but I made a few mistakes, which was on me," said Hammaker. "I was happy to get the win in both divisions. I got a great holeshot in Open Pro and just tried to sprint away and just maintain my pace. 250 A was a little more difficult, but I'm stoked that I was able to rebound and pull off the win. I made a few mistakes this weekend but I'm glad I'm able to use this experience and leave with the titles!"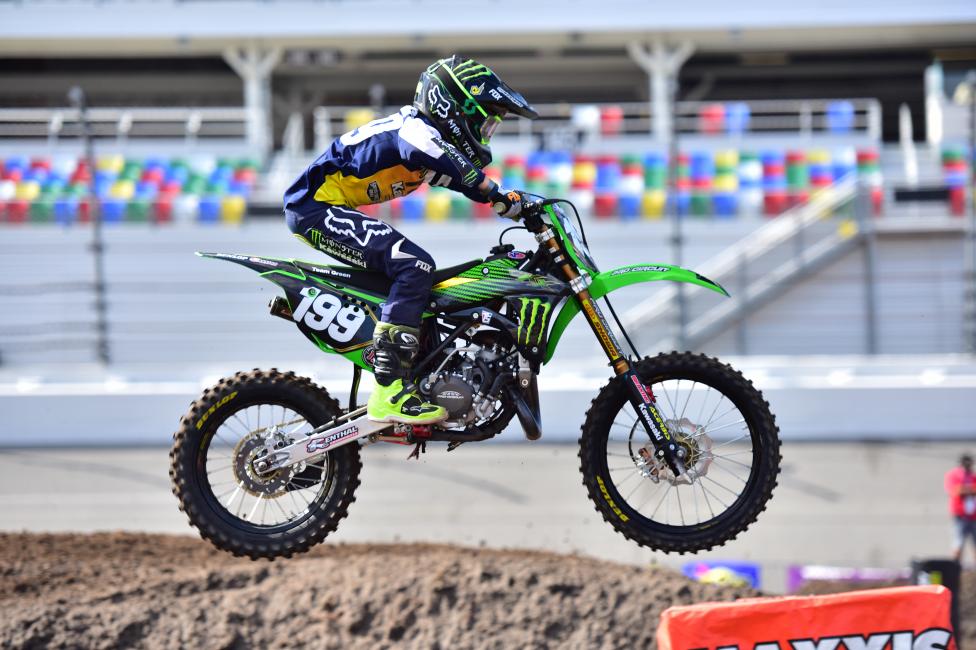 Ryder DiFrancesco faced stiff competition in the Mini Sr 1 division, but it didn't seem to faze the KX™85 rider. DiFrancesco put himself into the lead quickly with his unbreakable speed and went on to win the race and title. In the Mini Sr 2 division, DiFrancesco rode to an early lead and put together a consistent and fast race to finish in first, earning his second championship for the weekend.
"Daytona has been good to me over the years and we were able to keep that rolling this year," said DiFrancesco. "I'm pumped to be leaving here with two more championships! Next stop, Freestone."
Jett Reynolds brought the heat in the Supermini 1 (12-15) division, participating in one of the most intense battles of the entire event. After coming off the line in second, Reynolds caught the leader by Lap 3 and attempted to make the pass for the lead. The riders briefly collided and charged for the next corner, where Reynolds would successfully make the pass on the outside and slowly pull away from the pack. His hard-fought efforts earned him the win and championship in the division.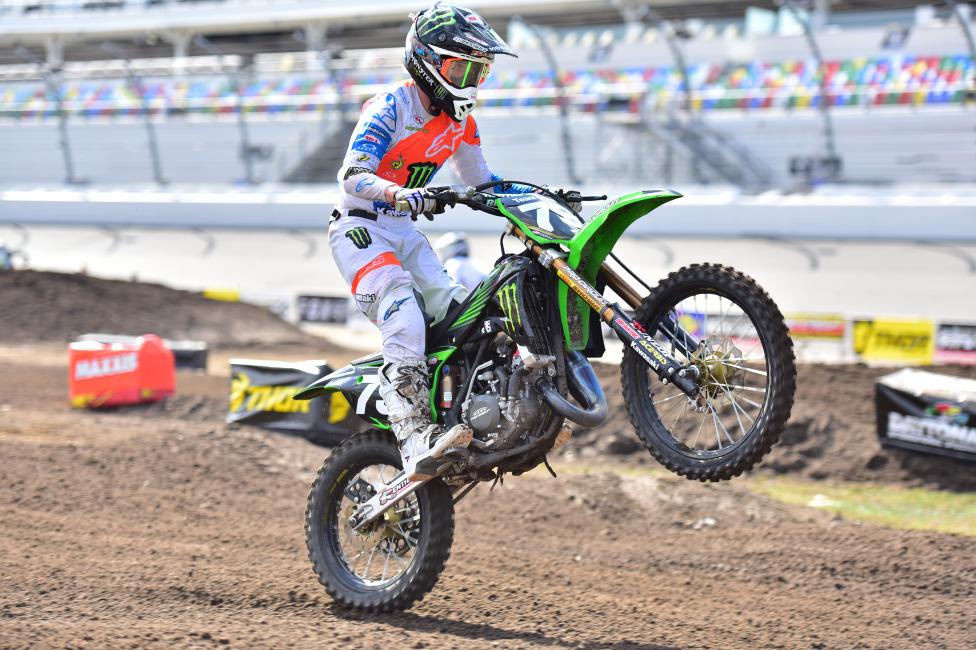 "The Supermini race was really tough. I got really bad blisters on my hand so it was really hard to hold on," said Reynolds. "I took my gloves off right after the finish and my gloves were full of blood, but it was definitely worth it. I'm happy to be leaving with a championship in hand."
With over 1,100 entries spread across 34 classes, Monster Energy Kawasaki Team Green claimed a total of 21 podium finishes and 10 overall division championships.
Kawasaki rider championships and podium finishes from 2019 Ricky Carmichael Amateur Supercross Results:
First Place Finishes
Ryder DiFrancesco - Mini Sr. (12-14)
Ryder DiFrancesco - Mini Sr. 2 (13-15)
Seth Hammaker - 250 A
Seth Hammaker - Open Pro Sport
Jett Reynolds - Super Mini (12-15)
Kai Jun Simons - 250 C Jr. (12-17)
Kai Jun Simons - 450 C
Jordan Helman - Vet (30+) B/C
John Grewe - Senior (45+)
John Grewe - Masters (50+)

Second Place Finishes
Kai Jun Simons - 250 C
Wristin Grigg - 450 B Limited
Michael Mitchell - Vet (35+)

Third Place Finishes
Jett Reynolds - Schoolboy 1 (12-17)
Andres Benenaula - Junior (25+)
Bjorn Viney - 450 B
Michael Mercer - Vet (35+)
John Grewe - Senior (40+)
Earl May - Senior (45+)
Earl May - Masters (50+)